WHO WE ARE
Three entrepreneurial generations
A single production specialisation
MF Catenificio Frigerio has been carrying on an industrial and family vocation for almost 70 years, which began with the construction of machines for processing iron wire and continued until it reached a position of prominence and recognized experience at a national and international level. Entrepreneurial continuity has made it possible to guide the company towards a well-defined identity, based on a business method oriented towards quality and innovation. Today MF is specialized in the design and production of chains for the most diverse industrial uses, acquiring extensive experience in the behavior of raw materials in the various stages of transformation and production.
Organisation
FUNCTIONAL SUBDIVISION INTO TWO SEPARATE INDUSTRIAL COMPLEXES
MF Catenificio Frigerio is organized in two different poles, both located in Olginate, near Lecco, in the productive heart of Lombardy. The production centre covers an area of 1,800 square metres. Here are concentrated the automated plants for wire processing and chain production, as well as the mechanical workshop dedicated to the construction of the equipment used on the lines and the quality laboratory. The logistics centre and the commercial and administrative offices are located in a new large structure of 2500 square metres, which serves as a warehouse for both semi-finished and finished products, ready for shipment.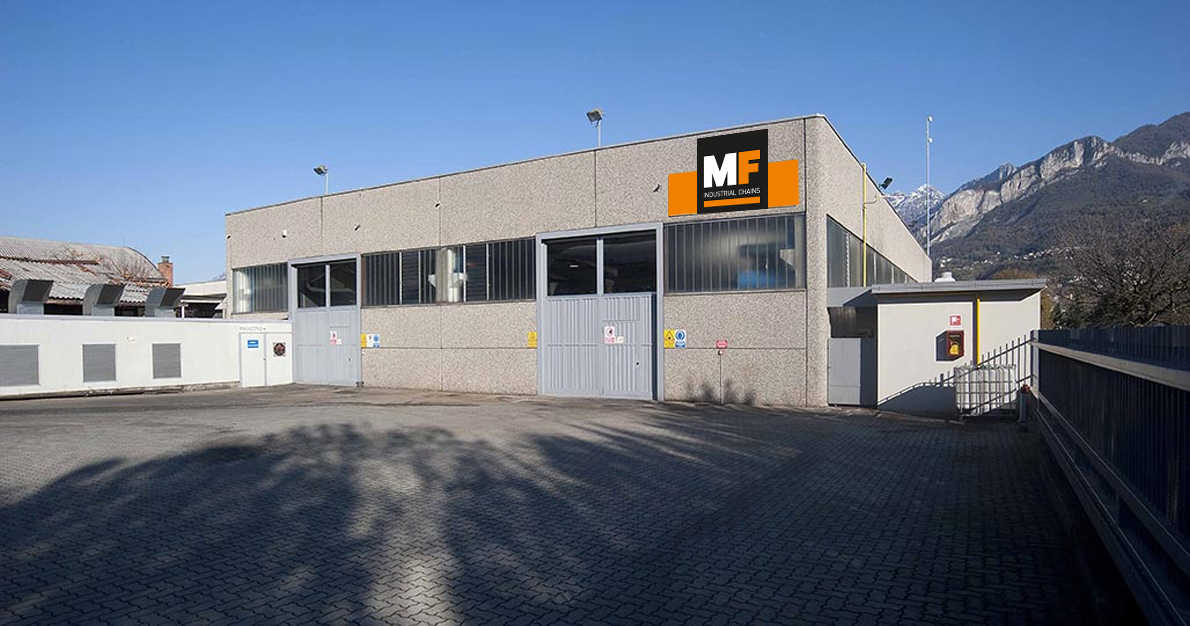 The territory
FUNCTIONAL SUBDIVISION INTO TWO SEPARATE INDUSTRIAL COMPLEXES
Over the centuries, the culture and technology of ironworking has developed particularly well in the Lecco area. The presence of iron in the mines of Valsassina – subsequently replaced, from the 19th century onwards, by scrap iron remelted in steelworks – together with the abundant availability of hydraulic energy provided by the numerous streams that cross the urban core of the valley, have allowed the birth, from the earliest times, of a flourishing iron wire (wire rod) processing industry, distributed in an organised manner through a widespread network of artisan and family businesses, which referred to a few major centres of excellence. In the 20th century, this reality was structured into a district system, in parallel with the consolidation of a mechanical industry oriented towards supplying dedicated equipment and accessories for metallurgy.